Bed Systems
Our Bed Systems are designed for DIY'ers and Builders looking for a stable and versatile sleeping platform.
Sprinter, Transit & Promaster Options
We have bed system for Sprinter, Transit and Promaster vans - in stock, with fast & free shipping.
There's many different styles to choose from including Adventure Wagon compatible, Flarespace compatible, and DIY-centric designs.
QUALITY DESIGN & CRAFTSMANSHIP
Our bed system is made with 3/16 aluminum, professionally laser cut, formed, and then powder-coated. The side mounting brackets are 12ga powder-coated steel. The strategically cut aluminum platforms allow airflow, which helps prevent mold on your mattress.
The L-track compatible mounting points are placed throughout to make it easy to mount up surfboards, storage bags, and other gear under the bed.
BUILT FOR DIY'ERS
No more waiting for weeks for your bed to be built and shipped via freight to some inconvenient business address. We stock our bed systems and send them straight to your door for free.

Couple that with a straightforward installation, and you'll see why our bed systems are the obvious choice for DIY'ers and professional Builders.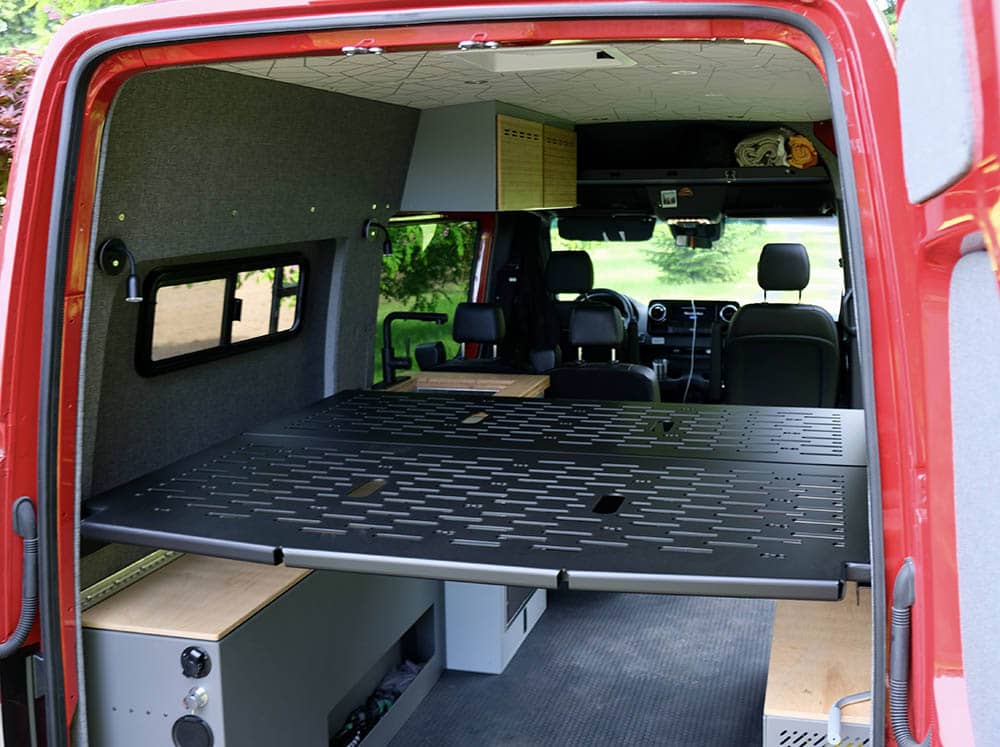 ★★★★★

Sprinter bed

Very easy to install. It makes a stable bed platform that fits perfectly into the van.

Karl O.
★★★★★

Good value and great customer service

Purchased diy sprinter bed system and it did not disappoint. Material and build quality are solid, but even better than the exceptional build quality is the extremely friendly and accommodating customer service.

Robert L.
★★★★★

2019 MB Sprinter - The PERFECT Bed System

I searched high and low for the perfect bed system and looked at everything you're likely looking at before I pulled the trigger on this one. Absolutely no regrets, couldn't be more happy with the purchase.

Kirk D.
★★★★★

Flat line van bed

Stayed my first 2 nights on the bed. The system is so sweet!!!👍👍👍 I could not be more happy! Nice work guys

Rob S.
★★★★★

Transit Bed System is SOLID

I love this bed system. It's super solid and easy to install, and so refreshing to order it and have it at my doorstep 2 days later. I love everything about my experience with FVC!

Greg M.