Sprinter Van Standard Roof Rack | 144" High Roof
Sprinter Van Standard Roof Rack | 144" High Roof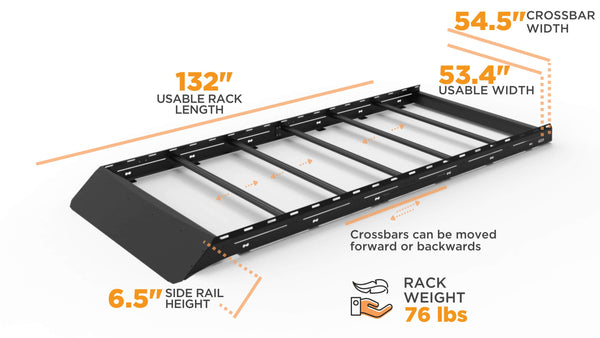 Aerodynamic Design
The built-in front fairing deflects the wind and keeps your van fuel efficient even when you have all your gear loaded up on the rack itself.
F45S Awning Compatibility
Bolt up the Fiamma F45S Awning (or other wall mount awnings) directly to the Standard Roof Rack.

Wide Footprint & RTT Compatible
The Standard Roof Rack features a wider footprint compared to our Low Pro Series Racks, giving you more options for solar panels and roof top tents (RTT's).
7x Crossbars
Move the 7 crossbars anywhere you want to accommodate fans, AC units, solar panels, and other rooftop gear.
DIY-Friendly
Designed to bolt directly to the stock or aftermarket roof rails on the Sprinter 144 High Roof, the Standard Roof Rack is an easy installation for DIY'er's.
Built To Last
The rugged and lightweight Sprinter Standard Roof Rack is designed and built to last the life of your van.